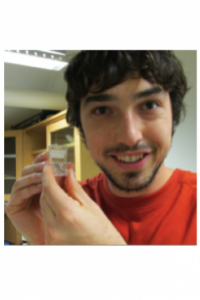 Department
Electrical and Computer Engineering
Office Location
Worked at NREL
Biography
Emmett Perl received a Bachelor's degree in Electrical Engineering from the University of San Diego in 2011 and an M.S. in Electrical and Computer Engineering from the University of California, Santa Barbara (UCSB) in 2013. He is currently pursuing his Ph.D from UCSB and is working on a research project at the National Renewable Energy Laboratory in Golden, Colorado. 
His work at UCSB focused on light management and the development of novel light coupling structures for multijunction photovoltaic devices. At NREL, Emmett is working on developing high efficiency solar cells that can be operated at 400°C for use with hybrid solar thermal/photovoltaic energy systems. 
Emmett was named an NSF Graduate Research Fellow in 2011 and is currently working on projects with Engineering a Brighter Sudan, the IEEE Community Solutions Initiative, and Unite to Light to help bring electricity to rural areas throughout the world.